Portofino is a jewel that all the word envy: the houses, the villas, the famous square, San Fruttuoso, the nature of its promontory. It is a rare example of perfect integration between man and nature. Its sea is also important and rare: for almost a century the marine biologists know its richness and beauty. It is diving heaven.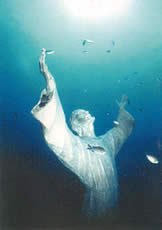 The Marine Protected Area of the Portofino Promontory was established by the Ministry for the Environment in 1999 with the goal of valorizing the biological and geomorphic resources of the area and promoting wider understanding of ecology and biology.
Departing from Camogli, the reserve stretches to the gates of S. Margherita Ligure, and is an ideal place for tourism, diving, and scientific research.
The Promontory, situated approximately 20 kilometers from Genoa, stretches into the sea for about 4 km, and represents one of the most alluring landscapes of the Ligurian Riviera. Bordered by the Gulfs of Paradise and Tigullio, it is characterized by a remarkable variety of environments. High cliffs throw themselves into the sea out of the coves, and they descend down to depths of 50 meters, ending in vast sandy expanses.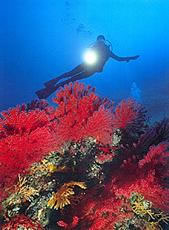 Here, the biocoenosis-rich seabeds are characterized by the regular presence of cracks, recesses, and canopies-ideal environments for sheltering numerous species of fish and mollusks.
Swimming in these limpid waters, we can admire the marvelous red coral (Corallium rubrum) that characterizes some stretches of the submerged walls at depths that are not challenging even for beginners, and encounter sea breams hunting and groupers peeking out of their dens.
The statue of the "Christ of the Depths" is famous worldwide. Placed in a bay in the cove of S. Fruttuoso at 17 meters underwater, every day it welcomes divers with open arms in one of the most famous and fascinating dives around. The Marine Protected Area of Portofino is divided in three areas, A, B and C, according to the richness of the seabed. It is possible to dive in the areas B and C according to the rules. In the Area A any activity (including swimming) is forbidden.