THE ALTAR
We descend along the mooring chain to the bottom at approximately 15 meters, and then we head west to reach the wall. The short distance separating us from the wall is littered with large, isolated rocks, where we may easily find a few moray eels in their dens. As we draw near the wall, we can see that it extends pointing decidedly toward the bottom to the south. Keeping the wall to our right, we begin our descent. Constantly looking to our right we see the splendid landscape offered by the towering rocks: they are enormous pinnacles that we'll see on our way back, but from this perspective they seem to look at us like giants.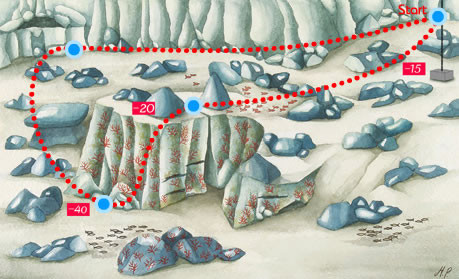 Continuing, the wall tends to curve to the west: it's advisable to look out for a possible fishing net abandoned among the spurs of rock covered with red gorgonians (Paramuricea Clavata).
At approximately 35 meters, we begin to see the species that characterize these depths: red coral (Corallium Rubrum), gorgonians (Paramuricea Clavata), and beautiful large polychaete worms.
A few more meters to the west, and a truly unique spectacle appears: two vertical and nearly parallel walls rise up to form an amphitheater over 20 meters high.
Descending to the bottom, at a depth of approximately 40 meters, we can visit a splendid specimen of a lobster.
Ascending a few meters, we explore the two walls, illuminating their numerous cracks as we hunt for spiny lobsters, moray eels, scorpion fish, and the many other animals who live in them. We can also admire the countless small branches of red coral that blanket the rock.
As we move further west, the contour of the seabed becomes less precipitous; the rock, sprinkled with large gorgonians, gives way to a seabed typified by its detrital deposits.
We now head toward the coast, ascending to approximately 18 meters. Depending on our dive time and remaining air, we can opt to continue to the west until we reach a large mass that features a cavity where a large grouper is often found, and around which gravitate an incredible number of Ray's bream, picarels, dassies and sea bream of considerable bulk.
Keeping the coast to our left, we move around this mass toward the exit point; we may encounter other large boulders that made hold wonderful surprises for us. A few minutes later we find ourselves around the pinnacles we observed at the beginning of the dive.
Continuing along the coastline, we return to the small bay, which is characterized by a bed only a few meters deep where we can end our dive by observing some sea anemones, which always host a few small crabs camouflaged in their tentacles.
Difficulty: intermediate, Seabed: wall