VESSINARO POINT
One of the many points that form the Portofino Promontory is the location of this dive site, named Vessinaro Point.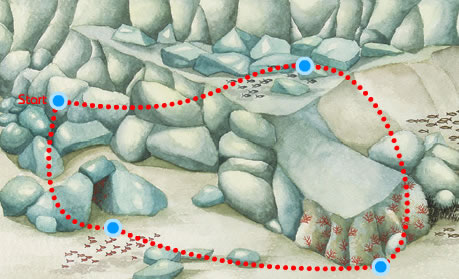 Descending along the buoy chain, we reach the bottom at 27 meters. Huge rocks, completely covered with red gorgonians (Paramuricea Clavata), create a wall effect, which we begin to explore.
Set one into the next, these boulders offer large groupers the chance to find shelter, and they sometimes share their dens with curious conger eels.
Keeping our wall on our left side, we descend to 35 meters. Here, the dissipating boulders create a canyon effect, and the ever-larger gorgonians form stupendous fans. Considering the depth, our computer tells us it's time to ascend. At 23 meters we get the feeling we're being watched, and turning toward the open sea we can see large sea breams chasing thousands of Ray's breams.
A small open-ended cave marks the buoy circuit, and with the wall to our right we stay at a depth of 12 meters. Even at this shallow depth, we can come across spiny lobsters and moray eels hidden in the coastal recesses. Reaching a small bay divided by a large boulder, a beautiful forkbeard wants to play hide and seek with us, but our computer tells us it's time to go. We've got no choice but to ascend and finish our beautiful dive.
Difficulty: intermediate, Seabed: wall