TARGHETTA
Passing Punta Chiappa and heading toward San Fruttuoso, we find a tiny bay bordered to the east by a rocky promontory named Punta della Targhetta.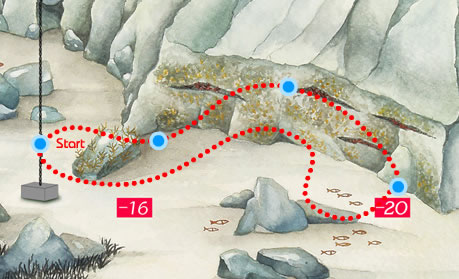 The boat will moor to the regulation buoy, and after our descent along the chain we'll start the dive by heading east.
On a slightly inclined seabed at about 16 meters, we find a protruding rock that forms a small canopy populated by orange gorgonian (Eunicella cavolinii) arranged perpendicular to the current.
The rock is nearly entirely covered with the calcareous corallites, from which the yellow tentacles of the Leptosamia Pruvoti emerge along with numerous bryozoans. Among them we can easily identify the Myriapora truncata (false coral) with its red, regularly branched branches, and the rosy lace of the sertella.
Swimming forward a few meters, to our left a vertical wall appears, which in its initial section reaches a maximum of 20 meters in depth, and where even less expert divers can admire the delicate branches of red coral (Corallium rubrum) and expanses of yellow cluster anemones (Parazoanthus) that blanket every cavity.
Proceeding eastward, the wall drops away further to reach a depth of 40 meters. The corms of red coral here reach considerable size. The unmistakable long antennae of the spiny lobsters and a few forkbeards peak out of the recesses.
Turning the corner, we briefly leave the wall, and to our right, huge rocks protrude from the muddy bottom, where often imposing specimens of conger and moray eels share the same dens. Returning to the wall, we turn around and head back to the bay from which we departed.
During our return, we follow the wall at a shallower depth that allows us to observe the numerous examples of the dotted sea slugs near the sponges they feed on.
Returning to the bay at a maximum depth of a dozen meters, corresponding to the rocks on the bottom we have the chance to encounter dozens of brown groupers.
We can choose one of two ways to end the dive: ascend directly along the buoy chain, or re-emerge near the rocky front and make our safety stops while inspecting the micro-habitats that shelter sponges, small crustaceans and mollusks, sea-urchins, and sedentary worms.
Difficulty: intermediate, Seabed: wall