GONZATTI SHOAL
We can begin our dive from the small platform six meters under the surface.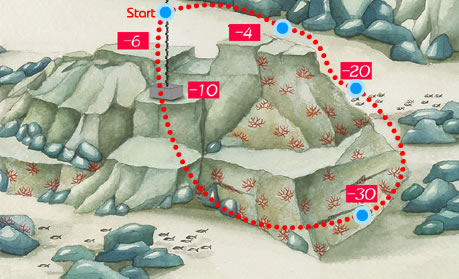 We descend between the shoal and the promontory wall. Keeping the wall of the shoal to our right, we proceed clockwise. At approximately 18 meters, we find the lairs of conger and moray eels. At the point where the shoal begins to move away from the promontory wall, we continue until we come upon an area rich in red gorgonians (Paramuricea Clavata) at about 30 meters. Here we have reached the area that hosts the dead man of the buoy at 10 meters. The wall creates small coves and cracks that are rich in flora. Looking out to sea, we can spot sea breams of remarkable size.
Then, heading toward the promontory, the shoal slopes gently. We reach the channel between the shoal and the promontory at approximately 20 meters. Rich in rocks of the oddest shapes, it harbors the dens of many groupers. One more glance at the shoal wall (a splendid Anemonia Sulcata lies a few meters away) and we can take our safety stop on a small platform at four meters and play with the peahen wrasses.
Difficulty: easy/ intermediate, Seabed: wall