ISUELA
Justly considered one the most beautiful dives in the Mediterranean, Isuela leaves a deep impression in the memories of all who visit it.
The most common route lies along the southwest slope.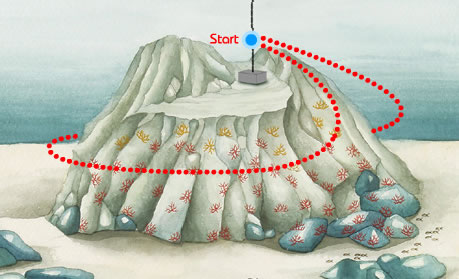 We descend along the chain positioned on the head of the shoal, arriving at a minimum depth of 14 meters. Once on the bottom, we head east following a section of the ample shoal head, but without spending too much time here (we'll do this on the way back). Already here it is common to encounter groupers, swarms of two-banded dassies, and above all, the unmistakable sea breams that appear suddenly out of the blue, only to disappear again. The shoal's plateau quickly turns into a wall. At this point we turn toward the outer part of the shoal, facing out to the deep sea. This breathtaking scene hosts a large expanse of red gorgonians (Paramuricea Clavata) that sway in the current (which is often strong), beginning from approximately 25 meters and reaching down to 55 meters and beyond. It's a good idea to maintain a maximum depth of 35/38 meters to avoid exiting the safety curve too quickly. The wall is very long, and we follow it toward the west. Other than the gorgonians in the various cuts in the rock, we can also see great flowering branches of red coral (Corallium rubrum). Toward the end of the Isuela's south wall, at a depth of approximately 28 meters, we find a spectacular hanging wall covered with yellow cluster anemones (Parazoanthus) and lone madreporarians. The rear of this wall hosts a few surprisingly large forkbeards.
At this point the shoal makes a decided 90° turn, and we find ourselves on the west side. It's time to head back up. The red gorgonians (Paramuricea Clavata) give way to yellow gorgonians (Eunicella Cavolini), and numerous sea breams, with their unmistakable shape, begin to reappear.
Following the west side, we reascend toward the plateau, which definitely merits closer inspection. The impression here is of being in an aquarium, with the constant presence of moray eels, conger eels, octopuses, groupers, dassies, and the inevitable sea breams. Don't forget to check your gauges, because it's easy to get distracted and... end up without any air. It's hard to leave the seabed, but unfortunately we have to. We ascend along the chain, because occasionally there is a current and at these times, without the assistance of an ascent line, we could easily end up a good distance from the boat.
Difficulty: intermediate, Seabed: wall