LITTLE TOWER POINT
At the edge of the reserve, in front of San Fruttuoso bay on the Portofino Promontory, an old tower rises that lends its name to the dive site.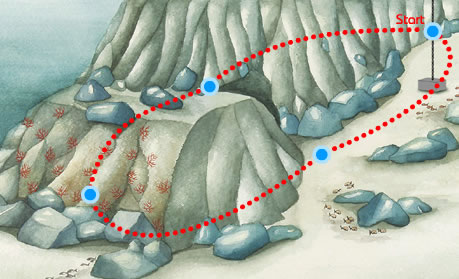 Descending along the chain, we reach the bottom at about 17 meters. From here, keeping the wall to our right, we find a series of boulders that form hiding places for countless moray eels. Reaching about 22 meters, a small recess on the coast is the starting point of a fantastic wall that falls away to a seabed 35 meters below the surface.
Its cracks shelter the marvelous red coral (Corallium Rubrum) that is typical of the area, as well as a dense forest of red gorgonians (Paramuricea Clavata), which provides lairs for gigantic groupers.
At the end of this wall, we begin our ascent and our eyes will be dazzled by huge sea breams. Continuing our ascent to a depth of 14 meters, we find three huge boulders turned yellow by dense blankets of yellow cluster anemones (Parazoanthus): this is a perfect hideout for large groupers.
We have the wall to our left; checking our air and depth gauges, which now read 12 meters, we can return wrapped in clouds of dassies and search the fissures for a moray or two.
The chain is right in front of us, but we still have time to have a final look around the small bay at a depth of 6 or 7 meters. If we're lucky, a few small groupers might greet us, leaving us another memory of this beautiful dive.
Difficulty: intermediate, Seabed: wall