THE DRAGON
The Dragon is one of the most widely varied dives in terms of the environments we can visit: we move from walls rich in coral (Corallum Rubrium) and gorgonians (Paramuricea Clavata), to suspended ceilings, to finally swim around large blocks of rock that feature an intricate series of channels and passages.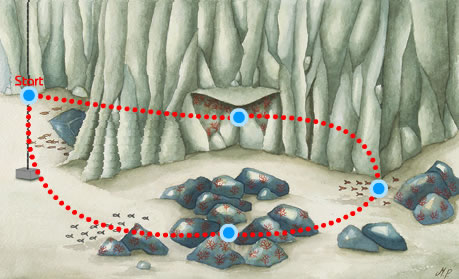 The structure of the walls, which descend vertically to the bottom at depths ranging from 25 to 40 meters and beyond, make this a medium-difficult level dive.
We have two choices for our descent: one is to descend along the mooring chain, but since the base rests on a seabed at approximately 30 meters, some divers might feel uncomfortable and choose to begin the dive by descending along the wall where the coast marks a small indentation.
Descending along the chain we reach a seabed mixed with scattered rocks and a detrital bed; wasting no time we head for the wall, and keeping it on our left we begin to explore the countless recesses and holes in which spiny lobsters, moray eels, and endless branches of coral can be seen.
Having nearly reached the point that demarcates the bay of the dragon, we can momentarily leave the wall to descend further to our right. Here we can visit the sparse boulders on a seabed at 40 meters covered with red gorgonians. We stop for the time allotted by the decompression limits, and then return back to the area near the wall and set off beyond the point, where we can find a labyrinth of rocks that houses large specimens of groupers, and where the sea breams go hunting for their prey. Here we can indulge ourselves in the available passages, and ascending to 15-18 meters, we can begin our return. We soon meet up with the wall, and keeping it to our right we begin to investigate the recesses until a vast and extremely rich ceiling appears to our right, extending on the diagonal up to a depth of about 9 meters. Paying attention to our depth, and our bubbles as they are caught in the folds of the canopy covered with yellow cluster anemones (Parazoantus), we can visit the little groupers or the forkbeards that often enter the underlying cracks. Starting to fin again, we reach a large square boulder that is our point of reference for returning to the mooring buoy. If we have enough air, we can continue along the wall, or else we'll head out to sea toward the boat.
Difficulty: interemdiate/difficult, Seabed: wall cliffs