MOHAWK DEER
We descend along the buoy line with the wall at our backs onto a seabed at 22 meters. Finning to the right we come across the imposing bow of the wreck.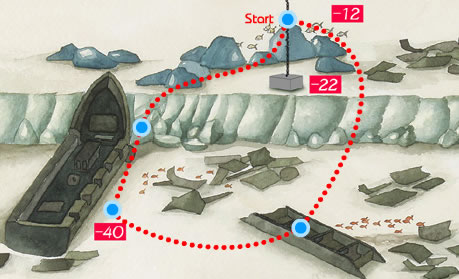 This cargo boat sank while being towed in to be decommissioned in 1974, and struck the wall of the mountain, breaking into two large chunks and a great deal of debris. At the prow, we find the anchor at 22 meters and explore the large gash that is now the den of conger and moray eels. Inside the bow (open) there is the winch and the anchor chain, around which swim a school of corvinas and a few groupers. We travel along the wreck and reach the command cabin, alongside which rises a large winch. We are now at about 30 meters, and we can have a look at the large holds on the right side of the wreck.
If our air reserves and non-decompression times permit, we can leave the wreck behind and head toward the second section, which lies at 35 meters and is extremely rich in vegetation. We reascend toward the debris at a depth of 12 meters, where we can explore the hideouts of octopuses and moray eels among the plates.
Then we return to the buoy chain and begin our ascent.
Difficulty: intermediate, Seabed: wreck