RAVIOLI REEF
We are moored to a buoy between Punta Careca and Testa del Leone. Along the coast it's easy to pick out the rounded reef that gives this dive its name.Descending along the chain, after about 14 meters, a Poseidonion bed surrounded by large rocks opens our way toward a siphon: we're at 23 meters.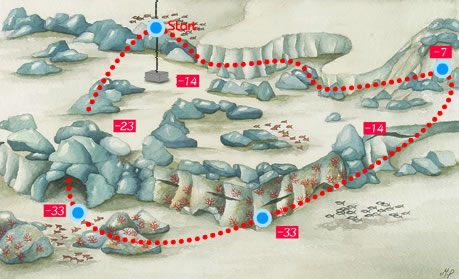 Our flashlight illuminates an expanse of yellow cluster anemones (Parazoanthus) and sponges, and after having traveled the siphon near the exit, we see two large forkbeards and a myriad of shrimp that are sedentary inhabitants. The exit from the siphon at 33 meters is colored by the red coral (Corallium Rubrum) and between one crack and the next we might spot the antennae of the spiny lobster.
Here, keeping the wall to our left, we are surrounded by beautiful red gorgonians (Paramuricea Clavata) that hide splendid groupers and dazzling dassies.
We have just passed the second cave, and continuing with the wall to our left, we come across the third, which is the favorite lair of a large spider crab. Returning up to 14 meters we explore a crack in which two large conger eels have hidden for years. In front of us, a plateau tells us that we've reached the last cave, at 7 meters. This cave is characterized by a fresh water spring, which, as it mixes with the salt water of the sea, creates the fantastic effect called a halocline.
Exiting the cave and keeping the wall to our left, we head toward the boat. But there are still some surprises to come. Large groupers swim calmly below us while startled Ray's breams flee from the threatening sea breams on the hunt.
By now we have reached the chain, and here we can play with the curious rainbow wrasses while we make our safety stop at five meters.
Difficulty: intermediate, Seabed: wall